There's a new trend on the fashion block that's gaining popularity among designers, fashion bloggers and celebrities worldwide. The salwar kameez, or dress-over-pants, is an outfit adapted from the
Pakistani culture
, and thanks to its unique look, simple yet effective cuts and stylistic versatility, it helped many western fashion designers find inspiration for their unconventional modish pieces. A hot trend for the spring/summer season, the salwar kameez is slowly but steadily getting through to top fashion industry tiers – and here, we have a brief overview of the history, vogue combinations and celeb sightings starring dress-over-pants.
Salwar origins: Traditional costumes in South Asia
The salwar khameez has its roots in the

Mughal Empire

, where it was worn as customary attire for both formal events and everyday occasions. The traditional salwar kameez costume occupies a prominent place in South Asian culture (especially in Afghanistan, Pakistan and India), and it consists of a long tunic (kameez, or body shirt) combined with salwar (pantaloons). The two-piece outfit is usually made from comfy fabrics, such as cotton, chiffon, silk, linen, georgette but it can also be designed as a fusion of different materials. Either a matching set or a combination of pieces in monochromatic design and bold patterns, the salwar kameez is worn by both men and women on the sub-content, though the outfit design and style somewhat differ by gender and region.
Salwar kameez in contemporary fashion
Kameez usually comes as either a tunic sewn flat and straight in the shape of the letter A or a long, flowy body shirt that resembles a dress. Drawing on these two main styles, the modern kameez look has been slightly adjusted to match other popular fashion fads across the globe. For instance, a kameez with set-in sleeves is currently very trendy in Europe and the U.S., while tunics with elaborate neckline decorations are more prominent in Asia and Eastern Europe. For more liberal fashionistas, kameez can also feature a deep neckline, sleeveless design or cap sleeves, which is why it's well-suited to spring and summer wear. You can buy amazing

Salwar Kameez suits from Fashions by India

.
The dress-over-pants outfit has recently been seen as a combination of preference in the celebrity world: well-known trend-setters such as Kendall Janner, Emma Watson and Sarah Jessica Parker have been caught on camera wearing this quirky Eastern attire – and much to their favor figure-wise, too.
Although she's better known for statement outfits that bring out a lady's most flattering attributes such as a well-toned body, swan-like neckline and firm legs, Kendal Jenner was recently spotted wearing the salwar kameez in public. In the all-white outfit that revealed her arms only, Jenner looked effortlessly chic, sexy yet discreet and highly fashion-savvy. A nice go at unisex fashion there, Miss J.
Another sighting of the salwar kameez among celebrities is Emma Watson's hybrid outfit seen at the Golden Globe Awards earlier this year. Miss Watson's daring ensemble featured a pair of blue heels, black pants and a stunning floor-long high-neckline dress in vibrant red designed by the master of chic cuts, Christian Dior. A brave clothing combination for the red carpet, verily.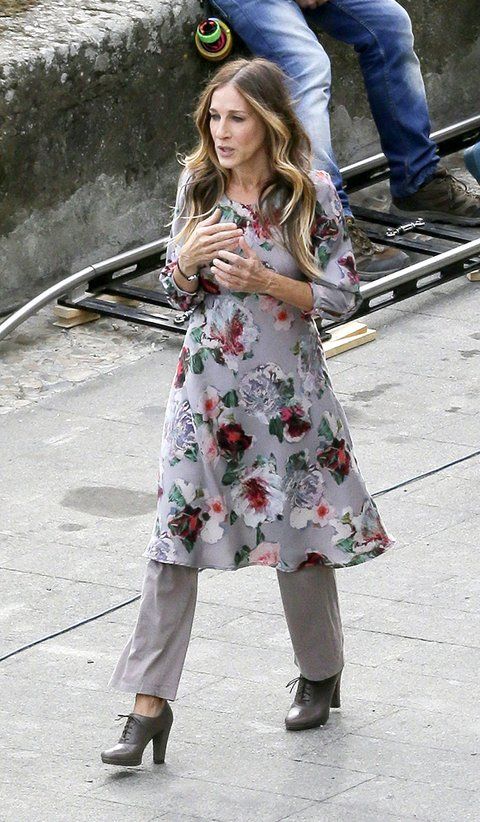 Mrs. Parker is one more celebrity whose refined clothing combinations have become a byword for superior fashion and taste. During a recent filming in Rome, Sarah was seen wearing dress-over-pants attire consisting of grey straight-leg trousers and a grey, three-quarter sleeve dress with cute multicolor floral design.
Whatever your personal opinion of hybrid clothing may be, the salwar kameez is here and it seems it's going to hang around for a while. With the dress-over-pant trend, you no longer have to choose between that elegant black dress and your favorite pipe-leg pants – you can wear them both and still look fit for a queen of the catwalk!
Amy Mia Goldsmith is an Australian literature graduate who loves to read and has been writing since she was little. Her passion is beauty and fashion and she loves to spend her free time travelling and of course…. shopping! You can contact Amy on her

Facebook page.